Double Bill of Political Drama at Culturlann
Prime Cut Productions and the MAC bring a double bill of theatre to Derry~Londonderry
Derry~Londonderry will play host to two nights of enthralling and provocative political drama next week when Prime Cut Productions and the MAC bring a double bill of theatre to Cultúrlann Uí Chanáin on June 19-20.
Prime Cut made a memorable impact in the city last September with the critically acclaimed 'Conquest of Happiness' as part of the 2013 City of Culture celebrations.
Now thanks funding support from the British Council they will be bringing two plays centred on Chile's political past, 'Villa' and 'Discurso', to Derry~Londonderry as a tangible legacy from the City of Culture year.
An Culturlann will witness two productions which take a look at politics from a totally different angle and showcases the very best in home-grown drama performed and directed by an all-female cast.
Villa and Discurso examine the Pinochet regime in Chile and the art of moving on in a post-conflict society. The staging of the productions will totally transform An Cultúrlann's main performance arena providing a unique theatre experience for audiences and an exciting stage for the actors.
Villa, directed by Roisin McBrinn, is a black satire that tells the tale of three women debating how to transform a former torture centre, Villa Grimaldi, into a symbol of the new Chile – should it be left exactly as is, or transformed into a shiny new museum - or even an arts centre perhaps? Discurso focuses on the farewell speech of Michelle Bachelet, Chile's president from 2006-10.
The plays are currently enjoying an acclaimed run at The MAC in Belfast and are performed by a stellar cast of top Irish actors - Derry~Londonderry's own Pauline Hutton, and fellow Northern Ireland performers Bernadette Brown, Eleanor Methven, Amy Molloy all of whom boast impressive UK and Irish theatre and TV/film credits.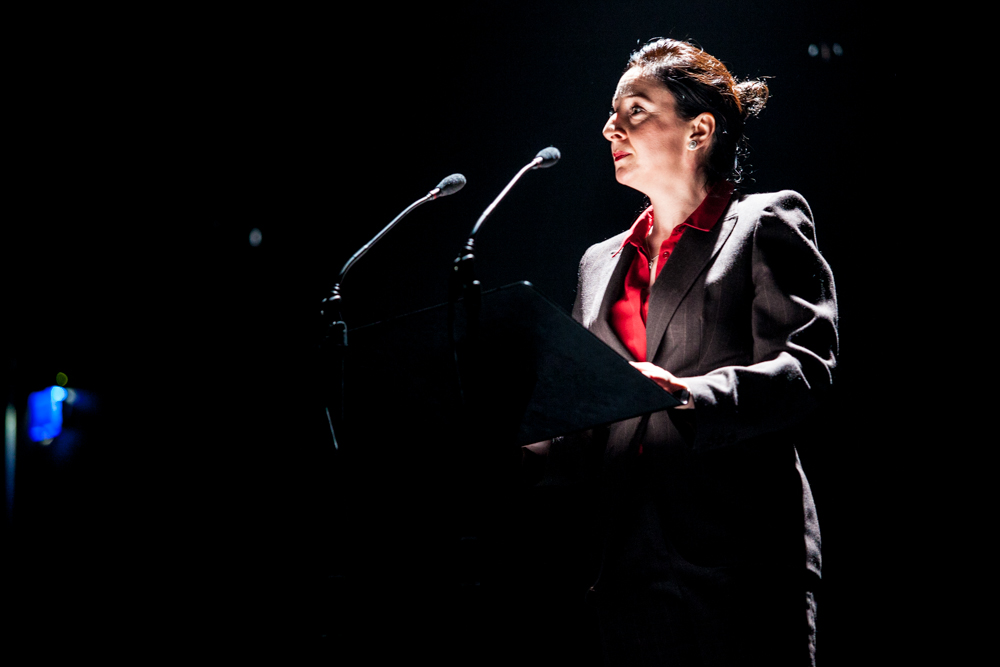 One of the stars of Villa – Pauline Hutton - said: 'It's fantastic to be part involved in bringing a production of this quality to my home town of Derry. This double bill of plays may be set thousands of miles away from Northern Ireland but the issues of how a society deals with legacy of civil conflict has great resonance for us.'
Emma Jordan, Director of Prime Cut Productions, said: 'I am delighted to be bringing this production with internationally-acclaimed plays performed by some of Ireland's finest actresses, under the guidance of top directors to An Culturlann, Derry.
'Villa is a satirical play which uncovers the dark humour about how to move forward – or not – in a post-conflict society. It examines how Chile should remodel the Villa Grimaldi, the building where thousands of detainees were brought to and hundreds were 'disappeared'. Discurso focuses on an imagined farewell speech of Michelle Bachelet where we get a glimpse the woman behind the politician'
David Alderdice, Director of The British Council Northern Ireland said: 'The British Council is delighted to be working in Derry-Londonderry again in bringing the Villa and Discurso plays to the Cultúrlann. These works portray the post-conflict experiences of a damaged society in Chile yet resonate and offer so much to us in Northern Ireland.
Prime Cut are one of our most talented and innovative theatre companies with a strong international track record and it's great that they and the MAC are producing some really powerful and thought provoking work.'
For more information about this critically acclaimed production go to www.primecutproductions.co.uk and www.cultulann-doire.ie.