Immersive play at The MAC takes audiences on a journey around abortion rights
Comprised of 12 scenes and an installation, Now For The North explores the subject from a wide variety of women's perspectives, explains the Artistic Director of Three's Theatre Company, Anna Leckey
Northern Ireland remains trapped in an awful, retrograde, patriarchal time lag, our illiberal abortion laws placing us out of step with the rest of the UK where the 1967 Abortion Act allows for terminations up to 24 weeks. The Republic of Ireland, which historically voted to repeal the Eighth Amendment in May 2018, has somewhat also cast off the manacles of retrogressive Christian ideology, meaning that women there now have access to terminations up until the 12th week of pregnancy and later in cases where the pregnant woman's life or health is at risk, or in cases of a fatal foetal abnormality.
Here the buttoned-up, conservatively Christian patrician politicians on the hill, out of work since the Executive collapsed in January 2017, preside over a backward, repressive orthodoxy established by the Criminal Justice Act (Northern Ireland) 1945 and subsequent court rulings which mean that abortion is legal only in very limited circumstances, where the act is to save the life of the mother or there is a risk of permanent and serious damage to the mental or physical health of the mother.
The 1861 Offences Against the Person Act, which makes obtaining or helping somebody obtain an abortion a criminal offence, is still applicable in Northern Ireland, meaning the draconian risk of heavy jail sentences for women who have an abortion or medical staff who help them.
Three's Theatre Company's team behind new play Now For The North
The result of this is that women in Northern Ireland wishing to end their pregnancy must travel outside the region to do so, incurring extra costs and stress for a medical procedure that should be available to them as elsewhere in most of Europe, with many made to feel shame and judgement heaped upon them by the arbiters of church and state.
The Northern Ireland Act 2019, enacted on July 24, extends the current deadline for the restoration of the Northern Ireland Executive to October 21, 2019. Under an amendment introduced by Labour MP Stella Creasy, if an Executive were not restored by that date, the act could introduce the liberalisation of abortion laws to bring it in line with the rest of the UK.
Creasy argued in Parliament that the government is obliged to extend access to abortion to Northern Ireland in order to comply with human rights obligations.
Last year the UN committee on the elimination of all forms of discrimination against women found Northern Ireland's abortion laws meant women were 'subjected to grave and systematic violations of rights through being compelled to either travel outside Northern Ireland to procure a legal abortion or to carry their pregnancy to Term.'
Rosie Barry in Now For The North. Photo by The Hype Factory
The denial of such fundamental rights to women in Northern Ireland, cruel, absurd and outmoded, and the ways in which choice is being taken away from women on such a personal issue, is the theme of a play arriving at Belfast multi-arts venue the MAC on September 7.
Now For The North, the latest instalment of Three's Theatre Company's 'pro-choice' production, is an immersive piece of site specific drama exploring our lack of reproductive rights. Audiences will journey around the venue in order to listen to the stories of women affected by the current restrictive laws.
Normally visitors have a choice in how they make their journey around the MAC, but in this production, the route will be chosen for them - symbolic of women's lack of choice. Twenty-eight audience members are welcomed per performance, the same as the number of women on average who leave the province each week seeking a termination. Now For The North intends to give voice and bring context to the real women and complex situations behind the statistics.
Artistic Director of Three's Theatre Company Anna Leckey is currently Artist in Residence at the MAC. She says of the production: 'We are here to speak out and tell women's stories. Behind every statistic there is a woman...a real woman with a life, passions, commitments, a family and friends. A woman who is not being supported by their government, a woman who must travel to receive the medical help they need.
Anna Leckey of Three's Theatre Company
'We are not ashamed, we will stand for our sisters, our mothers, our grandmothers, our cousins, our friends. Northern Ireland, we want change.'
The audience will begin their journey in the basement of the building where they will witness an installation by In Her Shoes Northern Ireland, an anonymous Facebook page where women can share their abortion stories and place pictures of their shoes; a similar campaign was used in the Republic during the campaign to repeal the Eighth Amendment.
'Then 12 scenes will unfold throughout the building,' continues Leckey. 'This is a production that is advocating for change. I see abortion rights as an important feminist issue.
'The stories here are fictional but most of them are based in reality. We used seven writers for the piece. It's about granting women the freedom to choose whether to continue with a pregnancy or not. It's about allowing women agency over their own bodies. Our current laws don't make sense to us. But we aren't pointing fingers and shouting. We're inviting people to empathise with women in a variety of situations who are making different decisions.'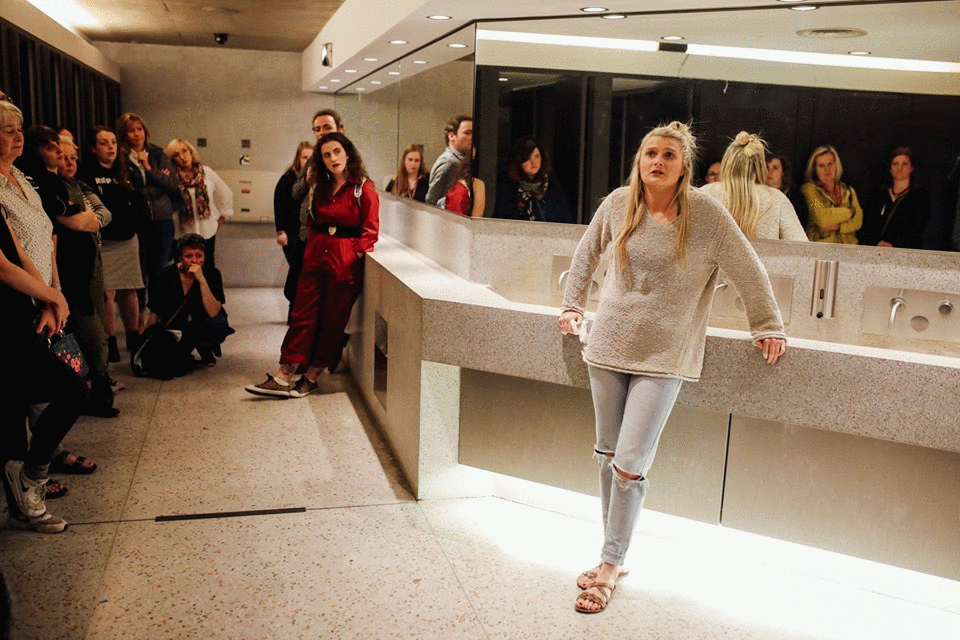 Now For The North being staged throughout the Lyric Theatre in an earlier run. Photos by The Hype Factory
Including elderly and young perspectives, from women who have sought terminations and women who have decided to continue with pregnancy in difficult circumstances, the show presents a myriad of views and draws attention to the importance of agency and the injustice of its denial. 'We've tried to make this production as inclusive as possible. Our feeling is that the arts scene here is very progressive on this issue and our hope is that politicians can eventually follow suit.
'The repeal of the Eighth Amendment is a reason for optimism that things here can change too. I feel hopeful that the amendment put forward by Stella Creasy in Parliament will be extended to Northern Ireland, and that women here will finally be granted the same reproductive rights.'
Staged in collaboration with pro-choice organisation Alliance For Choice, 20% of ticket sales for Now For The North will go to support its campaigns.
Now for the North will run at the MAC, Belfast, September 7 until September 28. For tickets, visit themaclive.com or call the box office on 02890 235 053.